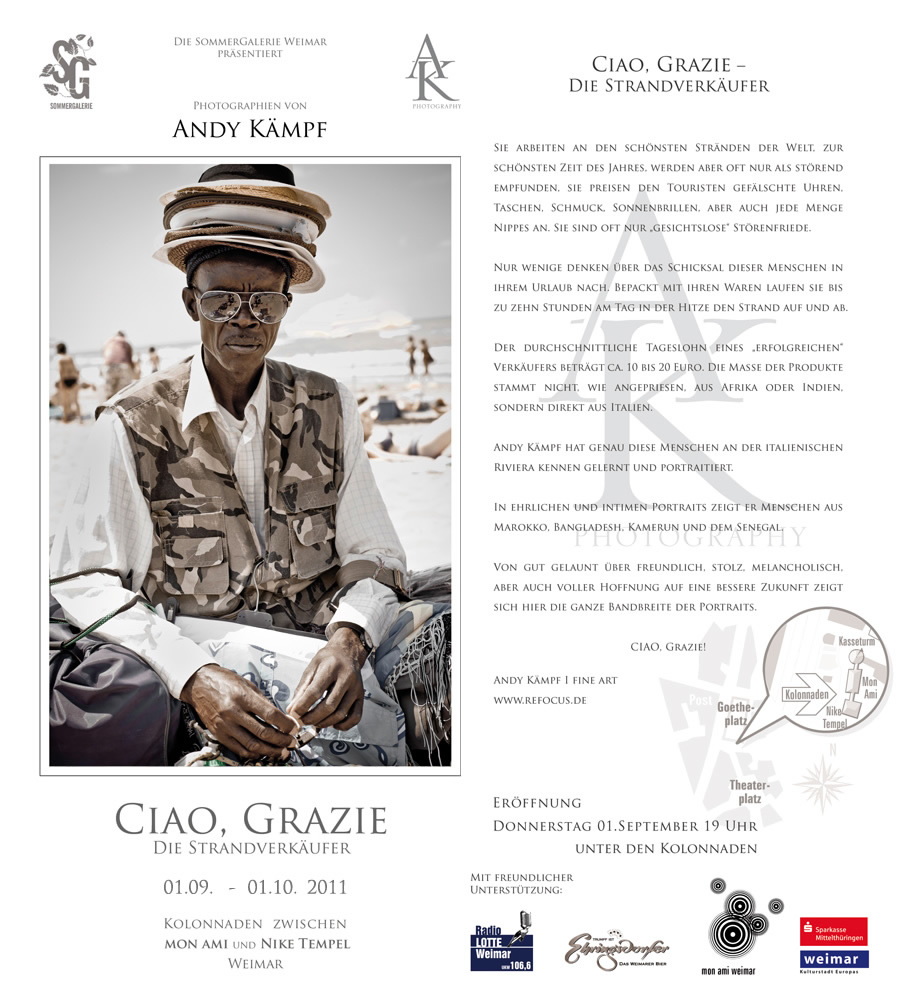 Ciao, Grazie – Die Strandverkäufer / The Beach Hawkers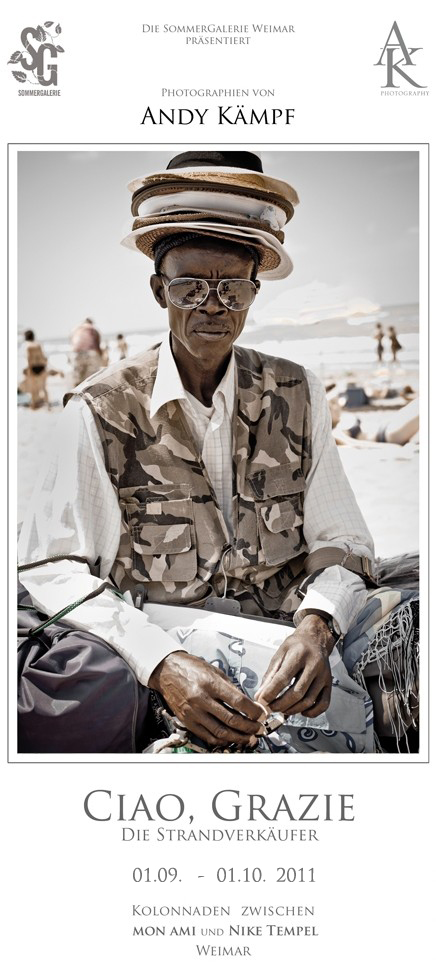 Ciao, Grazie –
Die Strandverkäufer
Sie arbeiten an den schönsten Stränden der Welt, zur schönsten Zeit des Jahres, werden aber oft nur als störend empfunden, sie preisen den Touristen gefälschte Uhren, Taschen, Schmuck, Sonnenbrillen, aber auch jede Menge Nippes an. Sie sind oft nur "gesichtslose" Störenfriede.
Nur wenige denken über das Schicksal dieser Menschen in ihrem Urlaub nach. Bepackt mit ihren Waren laufen sie bis zu zehn Stunden am Tag in der Hitze den Strand auf und ab.
Der durchschnittliche Tageslohn eines "erfolgreichen" Verkäufers beträgt ca. 10 bis 20 Euro. Die Masse der Produkte stammt nicht, wie angepriesen, aus Afrika oder Indien, sondern direkt aus Italien.
Andy Kämpf hat genau diese Menschen an der italienischen Riviera kennen gelernt und portraitiert.
In ehrlichen und intimen Portraits zeigt er Menschen aus Marokko, Bangladesh, Kamerun und dem Senegal.
Von gut gelaunt über freundlich, stolz, melancholisch, aber auch voller Hoffnung auf eine bessere Zukunft zeigt sich hier die ganze Bandbreite der Portraits.
CIAO, Grazie!
Ciao, Grazie –
The Beach Hawkers
They work at the most beautiful beaches in the world, during the most beautiful time of the year, but are often only considered as annoying. They offer fake watches, bags, jewelry, sunglasses but also a lot of bric-a-brac to tourists. To most of us they are often only "faceless" troublemakers.
Only few holiday-makers are concerned about the fate of these people during their vacation. Packed with their goods in scorching heat, the beach hawkers are wandering about the beach up to ten hours per day.
A successful seller's average day's wage is about 10 – 20 Euros only.
Although offered as such, most of the goods do not come from Africa or India, but directly from Italy.
Andy Kämpf has got to know these people on the Italian coast and photographed them.
In honest and intimate portraits he shows people from Morocco, Bangladesh, Cameroon and Senegal.
From cheerful to friendly, proud, or melancholic, but also full of hope for a better future, we get to see the full range of portraits.
CIAO, Grazie!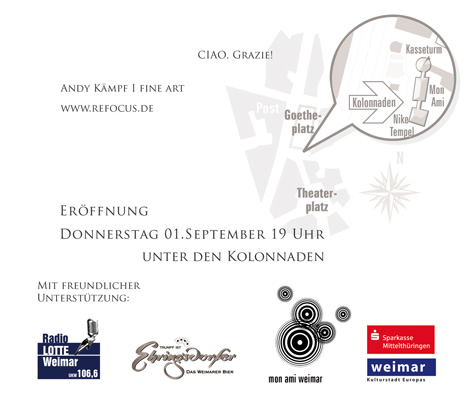 Sommergalerie Weimar
Eröffnung 1. September 19. Uhr
Kolonnaden zwischen Mon Ami und Nike Tempel, Weimar.